Introducing AskFirst
AskFirst is an online consultation platform developed in partnership with the NHS. Helping patients to self-help and connect with the right service at the right time, 24/7.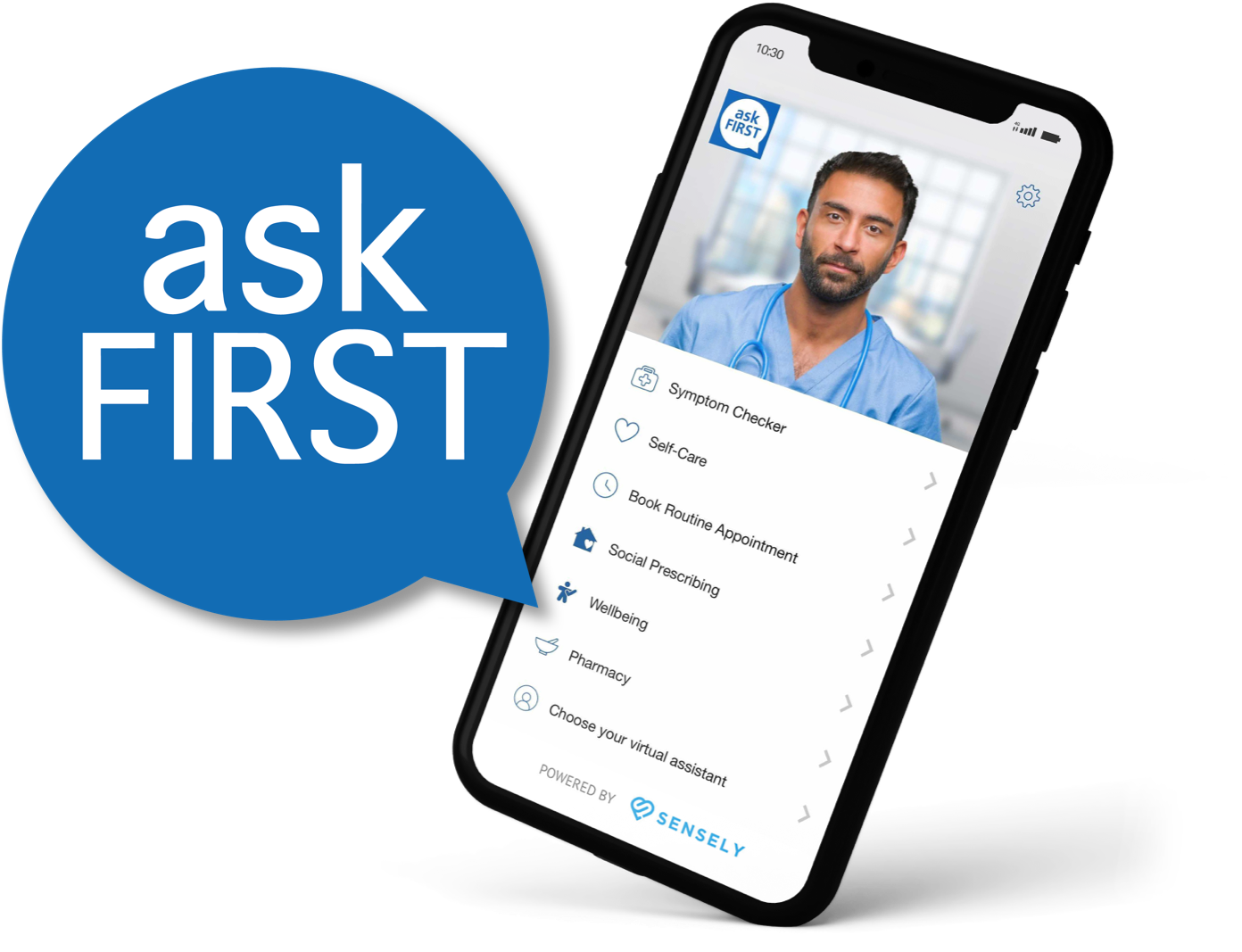 500,000+
registered users
1 million+
instant symptom checker assessments
250,000+
self-care advice episodes
Your first stop for enhanced access to NHS services and more
AskFirst serves as a front door for NHS GP Services, as well as Pharmacy, IAPT, Physio, Social Prescribing, and Flu clinics, supporting both patients and clinician 24/7.
Learn more about AskFirst:
Triage
Instant symptom checking and routing
AskFirst provides patients with trusted advice when a patient is needing help from their GP. With in built automated protocols, patients are triaged and connected to the right pathway, such as clinician callback, pharmacy, physio and other specialist services.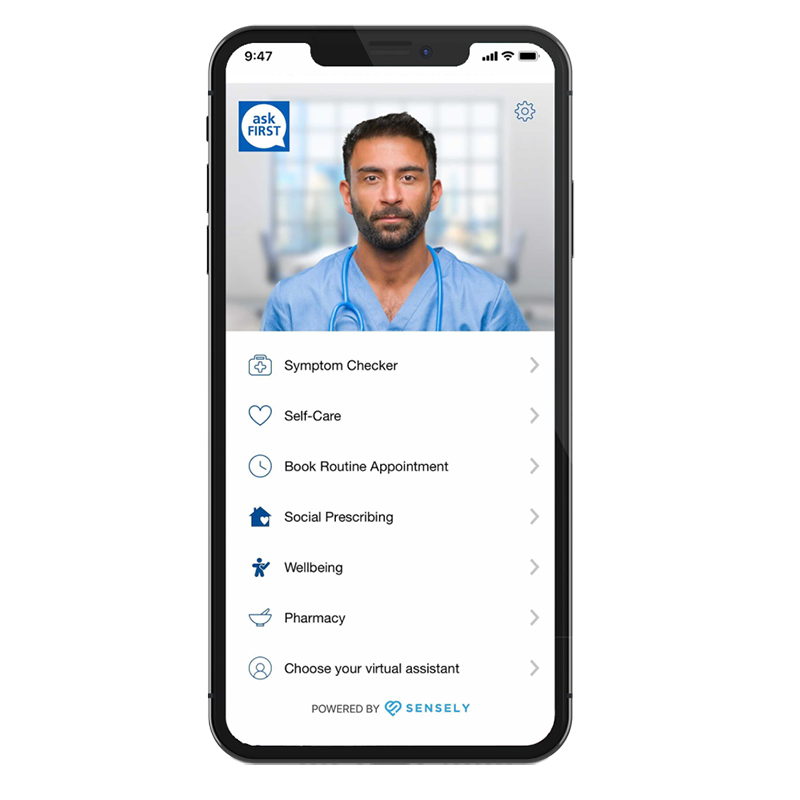 Triage
First
Clinical
Safety
Healthcheck
Digital Health Assessment
Remotely monitor your patients by creating / using custom protocols. Self-Assess (SNOMED-CT) health assessments available inc. Asthma, Diabetes, Mental Health, Dementia and many others.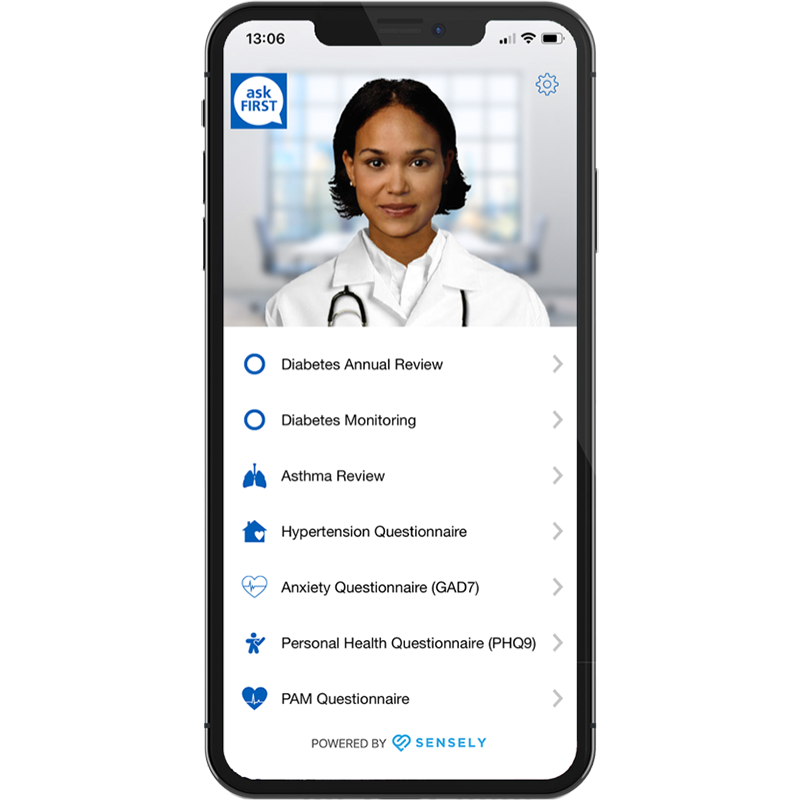 Long Term Condition Management
24/7
on-demand access
General Enquiries
Manage administrative queries online
Get help with administrative requests without the need to call or visit the practice, enabling a better patient experience and more efficient practice operations. This includes Sick / Fit Notes, Referrals, Care Information, Test Results, Medical Reports, Travel Advice.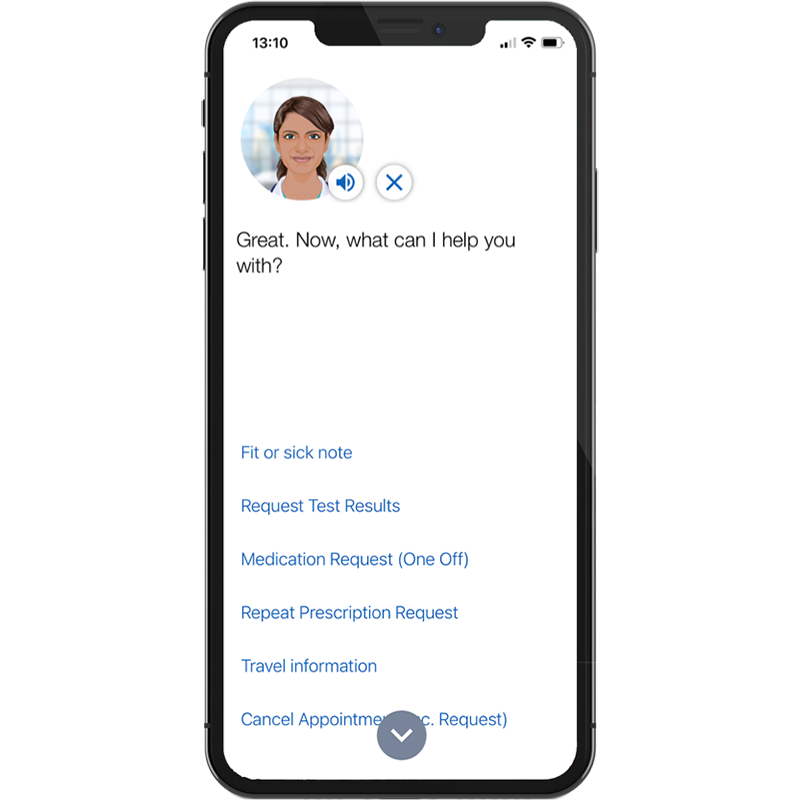 Test
results
Sick
notes
Self-care
NHS UK accredited health advice
Patients can easily search through trusted NHS UK healthcare advice and resources at their fingertips.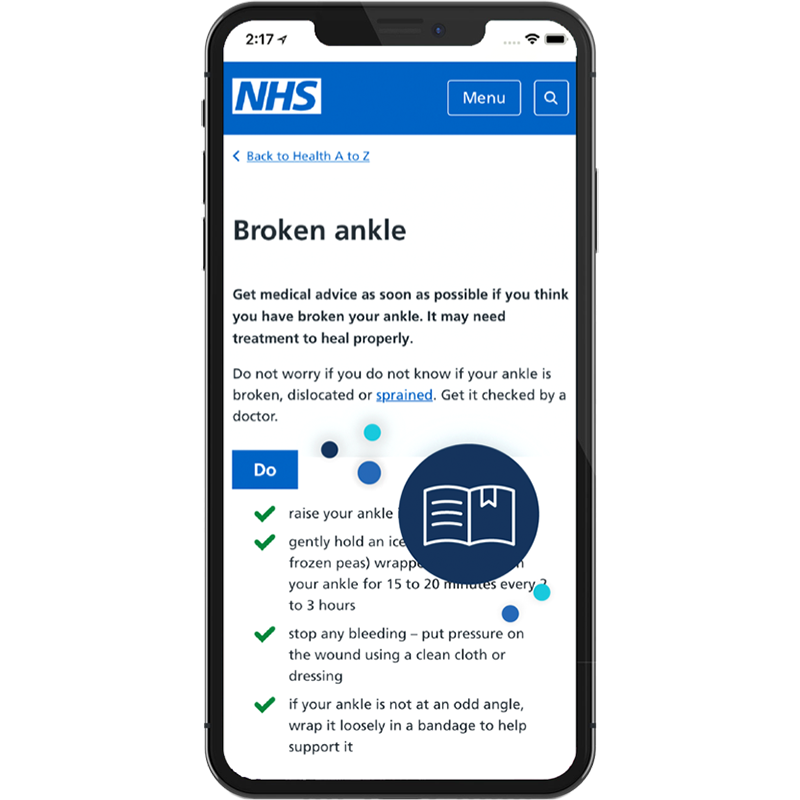 NHS
Services
Health
A-Z
Online Consultation Requests
Book an appointment with a clinician / specialist
No need to call the practice. Search for available appointments 24/7 - Book, View and Cancel appointments. Appointments include Vaccines (Covid-19 / Flu), LTC, Smear, Blood Pressure Check.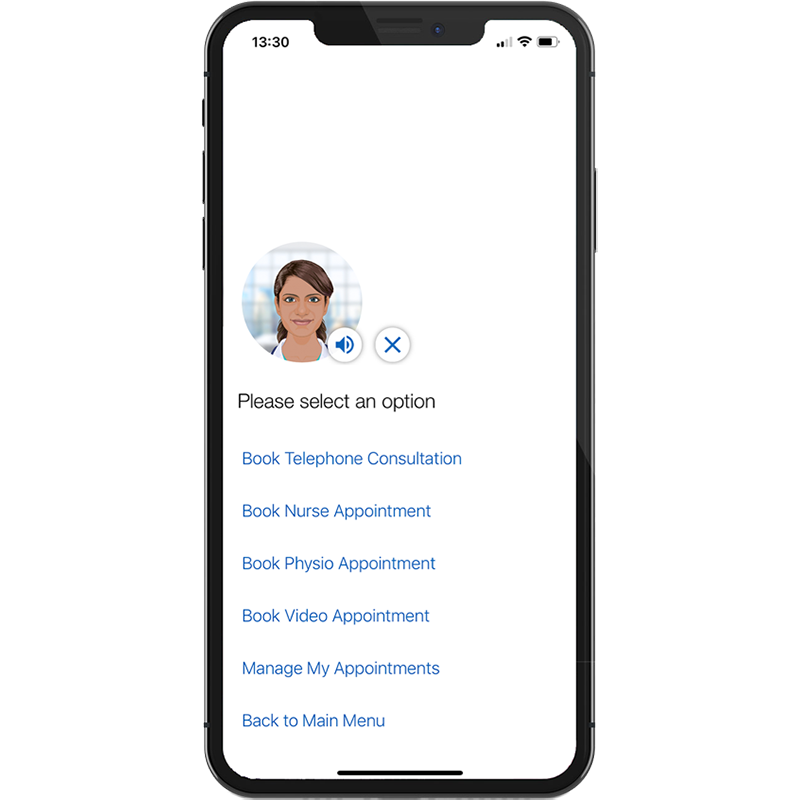 Automated Specialist Signposting
Direct Appointment Booking
Patients
Useful service to determine if you should contact your GP.
So much faster and easier than past experience of trying to get through to the surgery on the phone.
Very impressed by the efficiency and information. Really good app for me.
★★★★★ Physio Appointment. Absolutely great service. Very easy to use. Delighted.
Integration with
NHS Systems
AskFirst integrates with a number of GP IT systems, such as EMIS, and 111 service providers across the country.
View the ITK certification here
How does account registration work?
It works by matching your postcode, surname and date of birth with your GP Practice.
How do I register?
You can either download the AskFirst app for free from the Appstore (iOS) or Google Playstore (Android) or go to AskFirst Web
Click 'Create Account' or log-in via NHS login
Enter your postcode, surname, DOB, gender, email (this is your username) + create password.
Will it cost me money to use this service?
No, AskFirst is free for all patients.
When can I use AskFirst?
AskFirst is available to access 24 hours a day, 7 days a week via the app on your smartphone/tablet or the web version on your desktop/laptop.
What happens with my personal data?
To register with the AskFirst app you will be asked to provide your surname, postcode, DOB and email address. This is done in order to link your account with your NHS GP.
When you use AskFirst you will be given the option for your clinical summary to be shared with your GP, should you need to speak to a GP based on your symptoms / problem. AskFirst does not save any clinical information on your phone or device.
For further information please see AskFirst Privacy Centre
Is there a web version?
Yes, you can access AskFirst online at AskFirst Web
Interacting with the Virtual Assistant
How to Register for AskFirst
How to book an appointment using AskFirst
How to book an urgent appointment
Is AskFirst clinically safe?
AskFirst has been developed by a panel of clinicians / specialists inc. NHS GPs, Nurses. The Symptom Checker protocols and clinical pathways have been developed and governed in conjunction with Advanced.
How does it book patients directly into our appointment book?
Configuration is required in the GP IT system – please contact askfirst@sensely.com if you would like this activated for your practice. This allows AskFirst to sync with your appointment books and share availability with patients via the AskFirst platform.
How does the triage work?
The online triage asks a series of clinically approved questions and follows bayesian logic to arrive at an outcome. These outcomes are;
999 (identified using red flags in the triage questioning)
Acute Priority markers (GP1, GP2, GP3, GP4) – ranging from a same day response or up to 3 days
Specialist signposting (Physio, Pharmacy, Mental Health IAPT, Dental to name a few)
Self-care
How long does it take to get started with AskFirst?
AskFirst is quick and easy to setup and can be configured within a day. Backend management of the system is minimal due to AskFirst interoperating directly with your GP IT system / appointment ledgers.
How does it help to manage demand?
AskFirst is able to triage and answer (signpost) lots of your patients questions and queries before they contact the practice and therefore reduce the number of calls and emails coming into Practice.
The second way in which AskFirst helps to manage demand is through the AI led Symptom Checker. Triaging patients online and signposting them to the appropriate care service reduces clinicians time and helps to spread demand across different services and across different timescales due to level of urgency / time of day / day of week.
Is there support available?
AskFirst offers first level support to all customers and consumers via the helpdesk: askfirst@sensely.com
AskFirst is also committed to ensuring our customers reap all of the impactful benefits of the solution and have a team on hand to help with utilisation and uptake within your region.
Where can I track/report on usage and statistics?
Live reporting is available via the AskFirst dashboard: